SYNTHETIC LEATHER MANUFACTURING
Plastiss was born out of an Italian-Tunisian partnership, specialising in the manufacture of synthetic leathers and PVC coated fabrics, founded in 1969 by Abdelhamid Jeguirim and his partners Angelo & Franco Galbiati, men who had an ambitious vision for Plastiss and were convinced that the coated fabrics and synthetic leathers industry had great potential to develop. Building on a single-screen coating line, they began by producing quality PVC-coated fabrics for the furniture, footwear and leather goods industries. Through their commitment to creating quality products and their determination to innovate, they have made Plastiss a leader in its sector.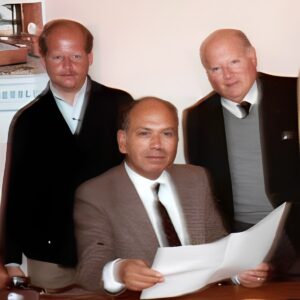 Inspired by the principles and spirit of its founders, the company is today equipped with modern equipment in PVC and Polyurethane coating, laminating equipment to offer to international markets products for various applications such as automotive, leather goods, footwear, nautical, health, furniture, clothing, etc… Today, it offers stable jobs, contributes to the development of its region by creating opportunities for other local companies and stimulating the local economy. Firmly committed to environmentally friendly production and product with the development of the "Green-fiber" product range based on vegetable raw materials by 2024, Plastiss is committed to reduce its environmental footprint while continuing to provide quality products. With this in mind, Plastiss has planned to use clean energy sources, with the installation of photovoltaic solar panels planned for 2025. By opting for renewable energy, the company wishes to reduce its dependence on fossil fuels and thus contribute to the protection of the environment.